Travel/Venue
TRAVEL
Brescia can be reached by plane, by train or by car.

There are four international airports quite close to Brescia, as highlighted in the map.




Click for Bigger View

Malpensa Airport (IATA: MXP) http://www.seamilano.eu/landing/index.html
Together with Rome Fiumicino, Malpensa is the biggest Italian airport. It has two terminals. Intercontinental Airport is 150 km from Brescia.

Available direct bus and train connections with Milano Centrale train station (about 1 hour, from 6€ to 20€). From Milano Centrale to Brescia train station see http://www.trenitalia.com (also in English)

By taxi, from Malpensa to Milano, it takes 50 minutes and costs about 70 €.
It is also possible to use a private bus service that reaches directly Brescia. This service is operating from Monday to Saturday and fare is about 50 € (e.g. http://www.airshuttlenord.com).
If you arrive at Milan Malpensa airport ( http://www.seamilano.eu/landing/index_en.html ) you have three possibilities A, B and C (please check in advance the price of taxi from Malpensa airport because they are very costly).
Option A
Milano Malpensa airport -> Milano Centrale train station -> Brescia train station -> Hotel and Conference area.
From Milano Malpensa airport to Milano Centrale train station, there are several possibilities:
1) If you arrive at terminal 1 you can get train Malpensa Express (see http://www.trenitalia.com/ (also in English), type Malpensa Aeroporto to Milano Centrale for timetable, more than a train each hour).
2) If you arrive at terminal 1 you can reach terminal 2 by bus or you can take a bus to reach Milano Centrale train Station (about 1 hour, it depends on traffic, about 7€).
3) We suggest avoiding taxis because they are very expensive from Milano Centrale to Brescia (train station). There are many trains (about one each hour taking about 1h of travel). It depends on arrival time of your flight, I suggest to see http://www.trenitalia.com/ (also in English, type Milano Centrale to Brescia); trains called Frecciabianca are faster and Brescia is the first stop.
From Brescia Station to Hotel and Conference area there are local bus (1,2 euro) (bus n.1 or 7), otherwise taxi would be best if you arrive late in the evening (http://www.radiotaxibrixia.it/ keep in your bag their phone +39-030-35111 or http://bresciataxi.weebly.com/, about 10 euro).
For bus service in Brescia, there is an interactive site map http://www.google.com/maps/ms?ie=UTF8&dirflg=r&hl=it&t=f&ecpose=45.52856... (it is in italian but you can use google maps and google translator...), otherwise be careful that bus 1 and 7 (from/to Brescia Station to the Conference area) are bidirectional, so be sure to take the right direction (Mompiano, Triumplina are keywords for the Conference area). Ask the driver (he is normally Italian speaking only, but it is sufficient to smile and indicate your destination on a printed map) to be sure to take the correct bus and to leave the bus at the correct bus stop.

Option B
There is a direct connection from Milan Malpensa airport to Brescia ( http://www.airshuttlenord.com/   see shuttle, but you have to reserve with two days and check for the timetable). The shuttle arrives in Brescia via Orzinuovi 58 and the bus stop n.7 (perfect to reach Ca Noa) is in Via Orzinuovi 101, otherwise there are taxi (on the order of 10 euros). See A solution, From Brescia Station to Hotel and Conference area, for details about local transportation.

Option C
You can rent a car (We suggest including an English speaking satellite navigation system). Malpensa airport is 150km far from Brescia, but you need to be cautious of fog. The highway costs about 10 euros (1.5 hours, it depends on the traffic, please take care of speed limits 130km/h); We discourage no-charge paths in this season (there can be snow or ice).
---
Linate Airport (IATA: LIN) http://www.milanolinate.eu/en
Well-connected to major European cities. Available bus to Milano Centrale train station

Verona airport (IATA:VRN) http://www.aeroportoverona.it/index_en.asp
Well-connected to major European cities. Available bus to Verona train station (http://www.bresciatourism.it/?wf_mod_id=pages&wf_mod_action=view&page=ID3/ID229/AIndex.xml&content=text )

Bergamo airport (IATA: BGY)
Well-connected to major European cities also with low-fare airlines. It is about 50 km from Brescia and it is connected by bus service http://www.airportbusexpress.it/init.aspx?AspxAutoDetectCookieSupport=1

Brescia is one of the major stops along the rail link between Torino and Venezia. There are high speed trains each two hours from Milano and Verona, local trains each one hour. Local trains from Bergamo are scheduled each two hours. See http://www.trenitalia.com (also in English)
There are local buses (e.g. bus number 1 at 1,2 €) from Brescia railway to the Faculty of Engineering (the seat of the Conference). The bus stop is in front of the railway station and it takes about 25 minutes to reach the Faculty of Engineering.
Taxi (e.g. http://bresciataxi.weebly.com) are quite expensive and it takes about 10 € from Railway Station to the Faculty of Engineering.

Other information about airport transfer and local transportation ("getting around town) can be found at http://www.bresciatourism.it


About Brescia
Brescia is a city in the region of Lombardy in northern Italy with a population of around 200,000. It is the second largest city in Lombardy, after Milan.

The city is the administrative capital of the Province of Brescia, one of the largest in Italy, with about 1,000,000 inhabitants.
The ancient city of Brixia has been an important regional centre since pre-Roman times and a number of Roman and medieval monuments are preserved, among which is the prominent castle.

The conference will be hosted at the Faculty of Engineering of the University of Brescia (Address: Via Branze 38, 25123 Brescia), about 3 km far from the ancient city.

There is a Tourist Information Office (Address: Piazza della Loggia 13/b) and you can request maps and brochure at infopoint@comune.brescia.it . For more information click here.
Recently (2011 June 25) Brescia has been included in World Heritage sites. Brescia main attractions can be found here.
Another good website for tourism is http://www.bresciatourism.it
Brescia is also a good starting point for one-day tourism by train (http://www.trenitalia.com)
Some examples:
One day at Milan, the capital of fashion (less than 1h of train, trains every hour from 6am to 10pm)
One day to Venice, the city on the water (less than two hours, trains about every hour).
One day to Florence or Rome (many possibilities, a suggested choice
Brescia, dept. - 07:05am
Florence, arr. - 09:24am
Rome, arr. - 10:55am
Rome dept. - 06:05pm
Florence, dept - 07:32pm
Brescia, arr. - 09:55pm
In the following a touristic map of Brescia downtown and suggestions about place in Brescia to visit.
The Monastery of Santa Giulia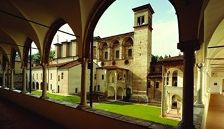 This incredible museum is one of the most important complexes of the early middle ages in Northern Italy. Founded in 753 by the Lombard King Desiderio, the monastery was expanded several times until the Renaissance. The complex contains the Basilica of San Salvatore, of Lombard origin, the Church of Santa Giulia, the Church of Santa Maria in Solario, which houses the Treasure of Santa Giulia, and three Renaissance cloisters. Three Roman villas were discovered under the larger cloister, the Domus dell'Ortaglia. The monastery area was acquired by the Municipality, which has turned it into the "Museo della Città" where one can follow the history of Brescia from the Bronze Age through to the Renaissance.The museum regularly hosts large art shows.
The Capitolium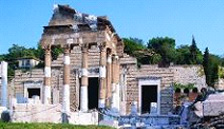 The Capitolium, built by the emperor Vespasian in AD 73, was a religious site and the monumental centre of ancient Brixia. The building was situated on the decumanus maximus (on the line of Via Musei) and was discovered in 1823. It is a temple with three chambers, where the Capitoline trinity of deities was worshipped, and is based on the plan of the underlying Republican temple. Inside marble fragments of an enormous male statue were found; others have come to light recently. The most probable intriguing explanation is that these came from a sculpture of the enthroned Capitoline Jupiter Optimus Maximus which dominated the central chamber; such a statue would have been modelled on that in the Capitoline temple in Rome, copies of which were installed in religious buildings throughout the empire.
The Broletto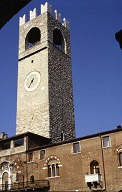 This typical town hall, one of the most important in Lombardy, was built between 1187 and 1230, then expanded in the 14th and 17th centuries. Many original parts still remain. Its name comes from brolo (vegetable garden) or mercatum broli (vegetable market). The construction has incorporated several buildings, including the 15th century S. Agostino Church. Above it stands the Pegol Tower (53.7 m tall), which is the oldest tower of the city (11th century). The months are depicted on two capitals of the four-light window by the Anthelamica school on the southern side of the courtyard.
Brescia: The New Cathedral and Old Cathedral (Rotunda)

Construction on this Late Renaissance Cathedral began in 1604 and was based on a project by G. B. Lantana. Towering above it is the Cagnola Dome (with 80 meters in height inside, it is Italy's third largest dome after Saint Peter's in Rome and Santa Maria Novella in Florence). It has three naves and a Greek cross layout. The cathedral contains works by Romanino, Moretto, Maffei, Palma il Giovane, Renaissance arches and sculptures by A. Calegari.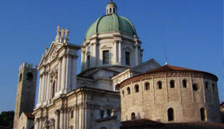 This magnificent monument with a circular layout was built over the ruins of the S. Maria Maggiore. Early Christian basilica by the Masters of Como towards the end of the 11th century. At the entrance is the ornate tomb made of red Verona marble and dedicated to Berardo Maggi, Bishop of Brescia from 1298 to 1308; beneath the presbytery is the San Filastrio crypt, with five naves and three apses. It houses the Treasure of the Holy Crosses, including the Croce di Campo [The Cross of the Battlefield] (12th century), which was raised on the Carroccio. There are also interesting paintings by Romanino and Alessandro Bonvicino, named "il Moretto" (1526 ca.) and the Antegnati organ.
The Castle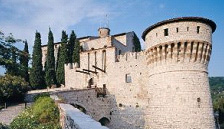 Sitting at the top of the Cidneo Hill, the castle dates back to ancient times. Fortified since the Roman Era, and probably a watchtower during the period of the Goths, it gradually took on its present aspect during the Visconti dynasty in the first half of the 14th century. The keep has a cylindrical tower called the "Mirabella" that is 22 meters tall and from the 13th century. More changes were made by the Venetians, the French and the Austrians. Called "Falco d'Italia" [the Italian Falcon] due to its role in the Ten Days Revolt, it has towers, ramparts, courtyards, drawbridges, and underground passages and rooms. The castle is now the home of the Risorgimento Museum, the Museum of Weapons and the astronomical observatory.
S. Francesco Church
Dating back to the 13th century, the church has a splendid Romanesque - Gothic facade and a three nave interior with frescoes from the 14th and 15th centuries, paintings by Moretto and Romanino, a priceless wood tablet with Crucifix from the 14th century. A large processional cross in embossed silver by G.F. delle Croci (1501) is among the masterpieces of Italian jeweler's art. The adjacent Renaissance cloister from the late 15th century is made of red Verona marble.